gtreyuudsz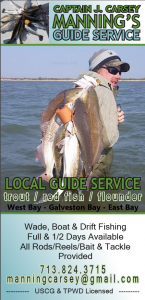 West Galveston Bay, East Galveston Bay, and Trinity Bay feature the largest and most complex jetties in the Texas Bay area. To make the most of your fishing experience we suggest you hire a guide.  Galveston Bait and Tackle can recommend the best guides so you do not have to spend your fishing time doing research.
The most sought after game fish are: redfish, speckled trout, and flounder. Hiring a guide could help you land the grand slam of catching one of each in one single trip fishing trip!
Trout   Red Fish   Flounder   Sheepshead   Mackerel   Speckle Trout Tarpon and Sharks
---
Galveston Bait and Tackle can hook you up
with the best of guides.
Capt. Garry McAninch Jr.

Fresh live bait daily
Soda - Beer - Snacks - Ice
Great selection of tackle, rods, reels and supplies
Boat ramp
CSS Layout Flexbox
In this example, we have created a header, two columns/boxes and a footer. On smaller screens, the columns will stack on top of each other.
Resize the browser window to see the responsive effect.
Note: Flexbox is not supported in Internet Explorer 10 and earlier versions.
London
London is the capital city of England. It is the most populous city in the United Kingdom, with a metropolitan area of over 13 million inhabitants.
Standing on the River Thames, London has been a major settlement for two millennia, its history going back to its founding by the Romans, who named it Londinium.