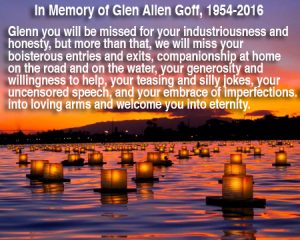 Glen Allen Goff came to Galveston, Texas for a carpentry repair job on Payco Marine after Hurricane Alicia. He was semi-adopted by the owner, Herschel Payne, and Glen stayed on to learn the marina and bait business. He eventually bought Galveston Bait and Tackle, which he rebuilt three times in the wake of storms. Glen always said fishermen and fisherwomen were the most interesting collection of people in the world, and among the best people, he'd ever known. Glen never met a stranger, no matter their gender, their ethnicity, their age, their ability, their status before the law, or their station in life. If he is to be remembered for any one thing, it will be his gift of promiscuous friendship.
Today Galveston Bait & Tackle is operated by Pam Goff, wife of Glen Goff, her partners Billy Howell, and JB Melina our shrimper who has been fishing shrimp for years, and we are very proud to have him.
 Galveston Bait and Tackle is your saltwater fishing store for rods, reels, lures, live bait, lines, and tackle. We are the first business you see off the I-45 causeway on Galveston Island, Texas. Galveston Bait and Tackle is focused on providing you with the highest quality service and will do everything we can to ensure your fishing experience is the best.
Galveston Bait and Tackle opens at 5 am daily with fresh free coffee. We have sandwiches and snacks as well as beer, soda, ice, and water. You can launch your boat for $10.00, and we have docks with picnic tables.  There is plenty parking for cars and trucks with trailers. Parking is just $5.00. Plus after your successful day on the bay, you are welcome to use our fish-cleaning table.
Fresh live bait daily
Soda - Beer - Snacks - Ice
Great selection of tackle, rods, reels and supplies
Boat ramp